News & Press Release

JAPAN'S MINISTER OF LAND, INFRASTRUCTURE, TRANSPORT, AND TOURISM, KAZUYOSHI AKABA AND HIS DELEGATION VISITED JFE MERANTI® FACTORY IN YANGON THILAWA SPECIAL ECONOMIC ZONE
January 6, 2020
6th January 2020
JFE MERANTI Myanmar Co., Ltd.
JAPAN'S MINISTER OF LAND, INFRASTRUCTURE, TRANSPORT, AND TOURISM, KAZUYOSHI AKABA AND HIS DELEGATION VISITED JFE MERANTI® FACTORY IN YANGON THILAWA SPECIAL ECONOMIC ZONE
Yangon, Myanmar – JFE MERANTI®, a Joint Venture between JFE Steel, Meranti Steel, and three major Japanese trading houses, today announced that it had the honour to receive Japan's Minister of Land, Infrastructure, Transport, and Tourism, Kazuyoshi Akaba, together with Ichiro Maruyama, Japan Ambassador of Myanmar, Hideki Hira, Japan's Deputy-Minister for International Projects, and Japanese Delegation for a brief visit on their site in Thilawa SEZ, Zone B on 23rd December 2019.
40
For Minister Akaba's visit, JFE MERANTI® was represented by its Chairman Yoshiyuki Nobusa and its CEO Sebastian Langendorf. The discussion between Minister Akaba and JFE MERANTI® included a presentation of the background of the new coated steel business, the selection of the Thilawa SEZ for the new JFE MERANTI® plant, the opportunities of domestically produced building materials, and the importance of quality building materials for sustainable development of Myanmar. Mr Nobusa, the Chairman of Yoshiyuki mentioned, " JFE MERANTI®'s goal is to be the leading supplier of quality coated steel for the Myanmar roofing and walling market. JFE MERANTI® is replacing imports, thereby creating skilled jobs, shortening delivery times, offering technical service on the ground, and helping to stabilize the local currency". He continued, "JFE MERANTI® decided to build its new plant in the Thilawa SEZ because of the Thilawa SEZ's unique infrastructure, its clear and transparent regulations, its location, and the very effective one-stop-shop service. To date, JFE MERANTI® employs around 200 people of which more than 85% are skilled local employees, and employment will reach around 300 people in 2020. In addition to direct jobs, JFE MERANTI creates a large number of indirect jobs including through localizing the supply chain for its production." When asked by Minister Akaba about the biggest challenges, JFE MERANTI® representatives mentioned the import of low-quality products some of which have the potential to hurt the sustainability of the Myanmar building and construction industry in the medium term, as well as the need for stable electricity and better transport in Myanmar outside the special economic zones.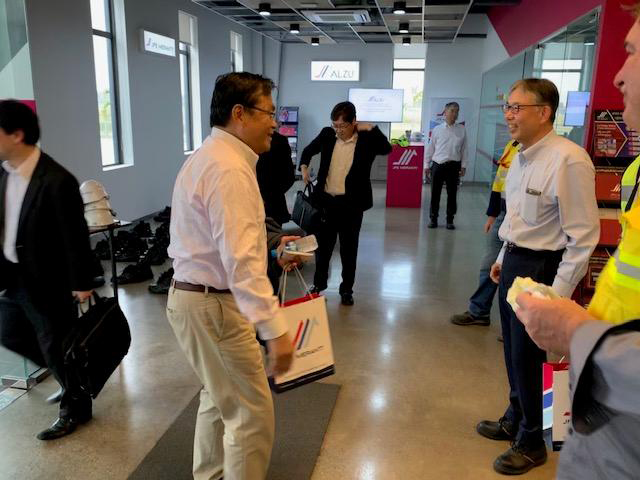 During the Minister's visit, the CEO of JFE MERANTI®, Dr. Sebastian Langendorf says, "In addition to the offer of world-class coated steel, JFE MERANTI®'s strongest selling point domestically is the reduced delivery time. We are bringing down the lead time from 2-3 months for imports to around 2 weeks for most of our products. Such reduced lead time will allow our local business customers to reduce their inventory significantly, thereby freeing up capital that is much needed for their business growth." He also mentioned the importance of sustainable production for JFE MERANTI®, "Sustainable production is critical for JFE MERANTI®. Through the use of the Thilawa SEZ's infrastructure, an onsite waste-water treatment plant, and thermal regeneration processes, we will minimize the environmental footprint of our production. Training and upskilling of employees are of utmost importance for us, and in addition to internal training programs, JFE MERANTI works in close cooperation with YTU and TTU in the form of scholarships, internships and other planned activities. In view of the significant production capacities and our modern plant in the Thilawa SEZ, we plan to also export some of our products. We are proud to bring JFE MERANTI's quality coated steel from Myanmar to the world." Following the discussion, Minister Akaba and his delegation together with Ambassador Maruyama, joined the JFE MERANTI® representatives for a plant tour. JFE MERANTI®'s painting line is currently being commissioned with the start of production being imminent. Production on the metal-coating line will start in the first half of 2020.
###
About JFE MERANTI® – JFE MERANTI Myanmar (JMM) is a joint venture of JFE Steel, Meranti Steel, JFE Shoji, Marubeni-Itochu Steel, and Hanwa. These distinguished international companies have shared resources to jointly design, construct and operate a world-class metal coating and colour coating facility located in Zone B of the Thilawa SEZ, Yangon. JMM products are specially formulated for the Myanmar climate to satisfy modern construction requirements. By delivering longer lasting and consistent quality coated steel, JMM helps to increase the durability of your projects.