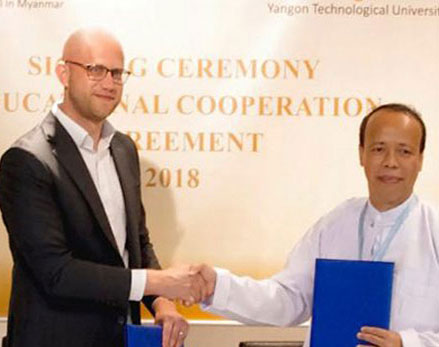 Press Release
Press & News

ECA Signing Ceremony with Yangon Technological University
June 1, 2018
On Thursday, 31st of May 2018, JFE Meranti Myanmar and Yangon Technological University (YTU) has confirmed their collaboration with the signing of the Educational Cooperation Agreement (ECA).
The present Yangon Technological University began as the Department of Engineering in 1923 under the Rangoon (Yangon) University. In 2012, YTU reopened the undergraduate studies and is now offering twelve six-year Bachelor of Engineering/ Architecture undergraduate programmes, as well as numerous postgraduate Diploma, Master and Ph.D. programmes in a variety of disciplines, totaling 78 programmes. Nine of the undergraduate programmes are provisionally accredited by FEAIP (Federation of Engineering Institutions in Asia and the Pacific).
The ECA  between JFE Meranti and YTU will provide initiatives that will advance the educational and developmental interests of both parties. In the initial stages, JFE Meranti will award scholarships, internships, and training seminars to students who excel in the fields of Mechanical, Electrical, Chemical, Mechatronics, and IT disciplines.
This collaboration creates opportunities to YTU students to test skills learned in the classroom, expand their knowledges through related work experience, and for JFE Meranti to transfer international expertise in the steel industry and its associated technology and practices to the future engineers and architects of Myanmar.
[rev_slider alias="ECA YTU"][/rev_slider]